Following the success of last year's initiative, #Youth4Disarmament, Youth Fusion and the Permanent Mission of the Republic of Kazakhstan to the United Nations are calling on young people to #StepUp4Disarmament by either completing a distance of 8.29 kilometres or tracking 10.9k steps, an approximate equivalent, to raise awareness of the International Day against Nuclear Tests, on 29 August 2022, and its cause to ban nuclear tests. 
The campaign aims to raise awareness of the devastating health consequences of nuclear testing through an emphasis on physical activity, recognizing that sport plays a crucial role for many young people across the world.
Individuals will receive a certificate recognising their completion of the #StepUp4Disarmament Youth Campaign and will be featured on the #Youth4Disarmament Instagram by using the hashtags: #StepUp4Disarmament, #StepUp2StopNuclearTests, #ISteppedUp.
But that's not all!
As part of this year's #StepUp4Disarmament Youth Campaign, 21 young people will be selected to attend an in-person tour of the United Nations Headquarters and attend a briefing from experts on the impact of nuclear testing.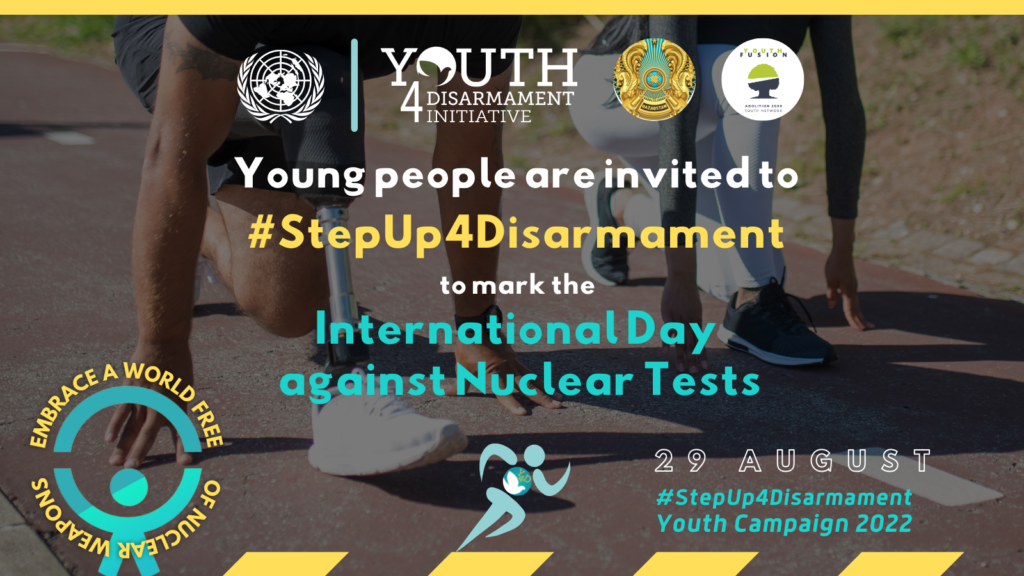 For more information and to register, click here.