This piece is one in a three-part article series that covers the event, "Let's Talk Nuclear Disarmament". Part 1, below, discusses youth empowerment and part 2 sketches Denmark and the Nordic region's relationship with nuclear disarmament, specifically in regard to international law. Part 3 addresses gender and nuclear disarmament, and discusses the submission to the CEDAW Review Committee that examined the case of Denmark, using the Thule Airbase accident to highlight key issues in Denmark's adherence to CEDAW.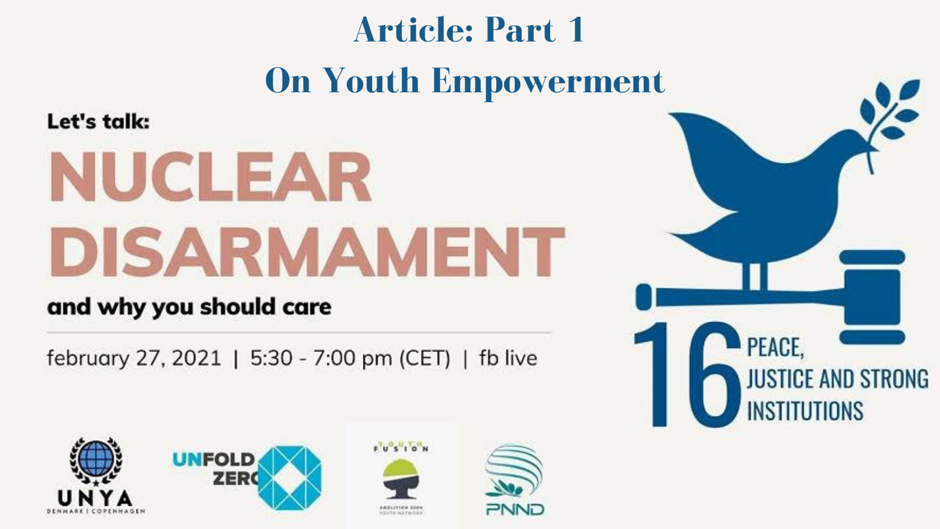 Introducing Let's Talk Nuclear Disarmament
On the 27th of February 2021, the United Nations Youth Association of Denmark's Peace and Justice Working Group, based in Copenhagen, held an event titled: Let's Talk Nuclear Disarmament, alongside its supporting partners, PNND, Youth Fusion, and UNFoldZero. You can watch the full-length event here.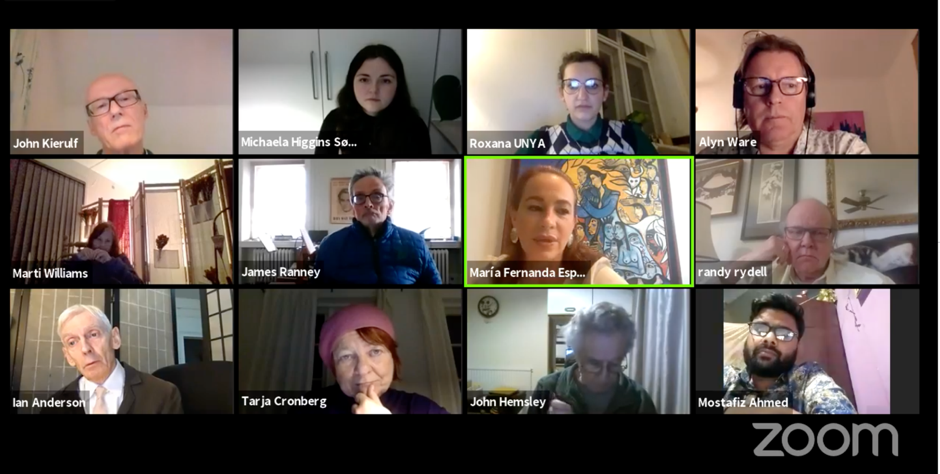 To provide a general background, October 24th, 2020 turned out to be a historic milestone for the nuclear disarmament movement. On that day, Honduras became the 50th country to ratify the UN Treaty on the Prohibition of Nuclear Weapons (TPNW), allowing it to come into force as international law on January 22, 2021. The accord outlaws nuclear weapons use, the threat of use, testing, development, production, possession, transfer and the stationing of nuclear weapons in a different country. Therefore, UNYA DK and its supporting partners set out to create an event to raise awareness on nuclear disarmament issues in Denmark, and examine what the ratification means for Denmark and the Nordic region, what the next steps that need to be taken are and how can we, as a youth, engage in the nuclear disarmament movement.
A main focus of this event was SDG 16, which intends to build peaceful and inclusive societies based on respect for human rights, protection of the most vulnerable, the rule of law and good governance at all levels. It also envisions transparent, effective and accountable institutions, which promote non-discriminatory laws and policies, combats corruption, bribery and organised crime and prevents violence, terrorism and crime.
Within such a framework, a handful of highly esteemed panellists were carefully chosen to highlight the event's main themes in relation to nuclear disarmament; youth empowerment, international law, the Nordic region, Denmark's position on the matter and, furthermore, presents a gender perspective in the field with a special case of the Thule Airbase incident.
Youth Empowerment & Nuclear Disarmament
Among the first of the speakers, was María Fernanda Espinosa, who is well known for her role as the president of the 73rd UN General Assembly (2018-19), as well as her former roles as the Minister of National Defence of Ecuador, Minister of Foreign Affairs, Permanent Representative of Ecuador to the United Nations, and her more current role as the Chair of the World Future Council Commission on the Rights of Children and Youth.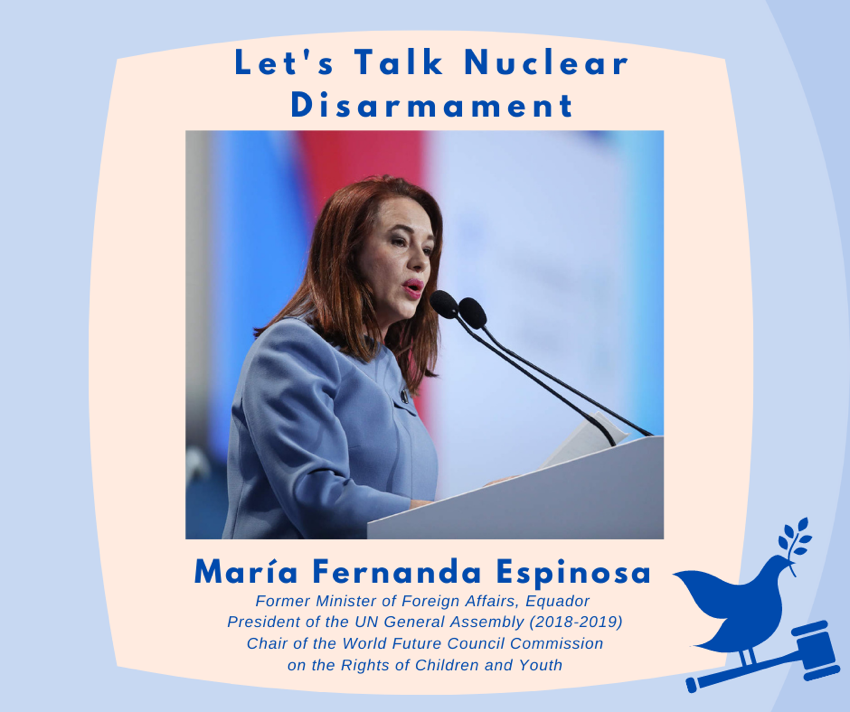 Espinosa opened her talk with reference to the 1946 United Nations General Assembly's first resolution on eliminating nuclear weapons 75 years ago, thus reminding us of the historical importance the United Nations serves through having nuclear disarmament as its first resolution. Building on this reminder, Espinosa stated that, "today, it is still unbelievable that we face the threat of nuclear annihilation". Currently, there are 13,400 nuclear weapons in existence that are much more powerful than the bombs dropped on Hiroshima & Nagasaki in 1945, and hundreds of nuclear weapons remain on high alert, ready to be launched within a matter of minutes. In light of this, Espinosa gave mention to the Bulletin for Atomic Scientists, which has set the Doomsday Clock to 100 seconds to midnight, thus calling on governments and world leaders to act now and ensure a more sustainable and safe future for all, in regard to various matters such as nuclear disarmament and climate action.
Advancing her call on governments and world leaders, Espinosa expressed that, "civil society and youth organizations need to raise their collective voice and continue to advocate for nuclear disarmament, and this collective voice needs to come from everyone. I am a strong advocate for youth". Espinosa explained that from her experience as the president of the UN General Assembly, she found that the youth had the innovation, creativity and energy to advance the nuclear disarmament agenda. Espinosa echoed the sentiments of the incumbent UN Secretary General, António Guterres, that including youth in nuclear disarmament processes ensures a more democratic and effective process.
Espinosa cited two main reasons as to why youth empowerment is of utmost importance within the nuclear disarmament field. The first reason she drew on was that there is a current global trend of nationalistic, closed and greedy societies but, on the contrary, she has observed that young people 'have something in their DNA' that makes them more cosmopolitan, openminded, internationally oriented, and intrinsically multilateral. Espinosa provided concrete examples of voting behaviour around the world, where she revealed that young voters express more of an interest and tend to vote for more progressive, environmentally friendly and socially sound political positions and, furthermore, reject xenophobic, nationalistic and unilateral agendas. Espinosa asserted that these behaviours from the youth are critical for strengthening multilateralism and a sustainable peace and security agenda.
The second reason Espinosa cited was that of self-preservation, explaining that some leaders that put under question nuclear abolition, multilateralism, deny climate change and that do not take the COVID-19 pandemic seriously will not live through the full consequences of such decisions, but young people will. Espinosa made reference to the transformative power the youth made in 2019, on a global scale through youth movements, such as the global School Strikes for climate action that pushed climate change into headlines around the world. Ms. Espinosa declared that, "we need to build on this to move forward with the nuclear disarmament agenda". A way to do this, according to Espinosa, is by building momentum around the TPNW, and make January 22, the treaty's entry into force, a landmark day. Furthermore, Espinosa recommended an initiative to divert money away from nuclear weapons development and proliferation, and rather put this money into the United Nations and the Sustainable Development Goals, as well as COVID-19 recovery. To learn more about how to do this, you can visit the Move the Nuclear Weapons Money campaign and UNFoldZero.
How can You Take Action?

Raise Awareness
Raise awareness through social media
Raise awareness through events
Raise awareness through word of mouth
Raise awareness through writing an article
Education

Useful Networks to TAKE ACTION!
Use your local platforms, such as UN Youth Associations, to raise these issues
Call on your governments to take action here
Contact us at youthfusiona2000y@gmail.com for more information!