It has now been more than a week since we held our two events that comprised the Peace, nuclear Abolition and Climate Engaged Youth (PACEY) Awards 2022; the Peace, climate action and nuclear abolition intergenerational Forum and the PACEY Award Event. Both events were a great success with phenomenal speakers and inspiring people. During the PACEY Award Event, six finalists got to present their projects. All six finalists had outstanding projects involving peace, nuclear disarmament and climate action. The projects all shone through as making a significant impact on the local and global scale, and it was tough for the voters to decide on the two winning projects.
Two prizes of €5000 Euro were awarded to the exemplary youth projects or initiatives to advance peace, climate protection and/or disarmament, especially nuclear disarmament. The event was held in conjunction with the Basel Peace Forum 2022 and the Intergenerational Forum Peace, climate action and nuclear abolition.
Winning Projects:
– Keep it in the Ground for Peace
– Faith for Earth Bosna i Hercegovina
Runner-up Projects:
– 1.5 Degrees of Peace
– Food@COP
– Limitations of Armaments in the Middle East
– Adopt a Tree not a Weapon
Below are quotes from the six finalists about their thoughts on making it into the final six of the PACEY Awards 2022, how they thought the event went and some words on the future of their projects. 
Winning Projects
Keep it in the Ground for Peace
Being able to share our campaign with the PACEY audience and to learn of the remarkable efforts of the other finalists has been a wonderful opportunity for us to start this new year with renewed inspiration.

Receiving this prize will give us the momentum we need to carry out our work and involve more people to join hands and keep fossil fuels in the ground for peace.

We are committed to amplifying the voices of the communities affected by the oil drilling in Lake Malawi and helping them fight for their right to keep their homes safe and unpolluted. We look forward to sharing our journey with the PACEY community!

– Francesco Loyola, Keep it in the Ground for Peace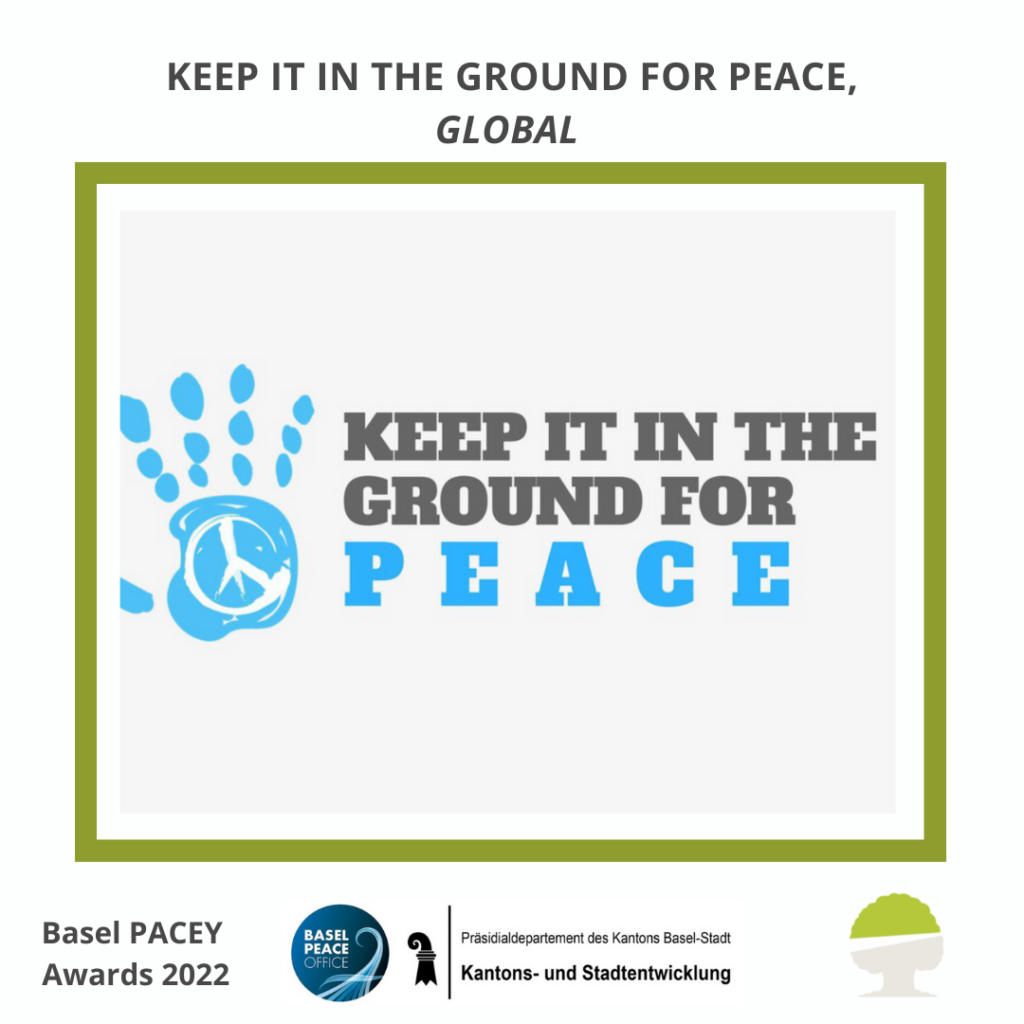 Faith for Earth Bosna i Hercegovina
With the project 'Faith for Earth', Youth for Peace got involved in addressing climate change and Earth protection. It was important for us to emphasize the importance of religious institutions, religious leaders and the role of religion in general in environmental protection. Showing the link between environmental protection and peace in our communities was also an important step in establishing sustainable action for the future.

Our team, that worked diligently on the project, was rewarded for all the effort and time invested, and indeed this award gave us additional motivation and wind in the back to continue to work even better and with better quality in the future. We are extremely excited and happy about the award, but also the continuation of the project through education of young people, developing environmental awareness and individual participation of young people in environmental peacebuilding. All finalists showed great enthusiasm and desire for change, all presented projects were of exceptional quality and impact. We are glad to have shared the stage with all of them.

–       Adel Homoras, Faith for Earth Bosna i Hercegovina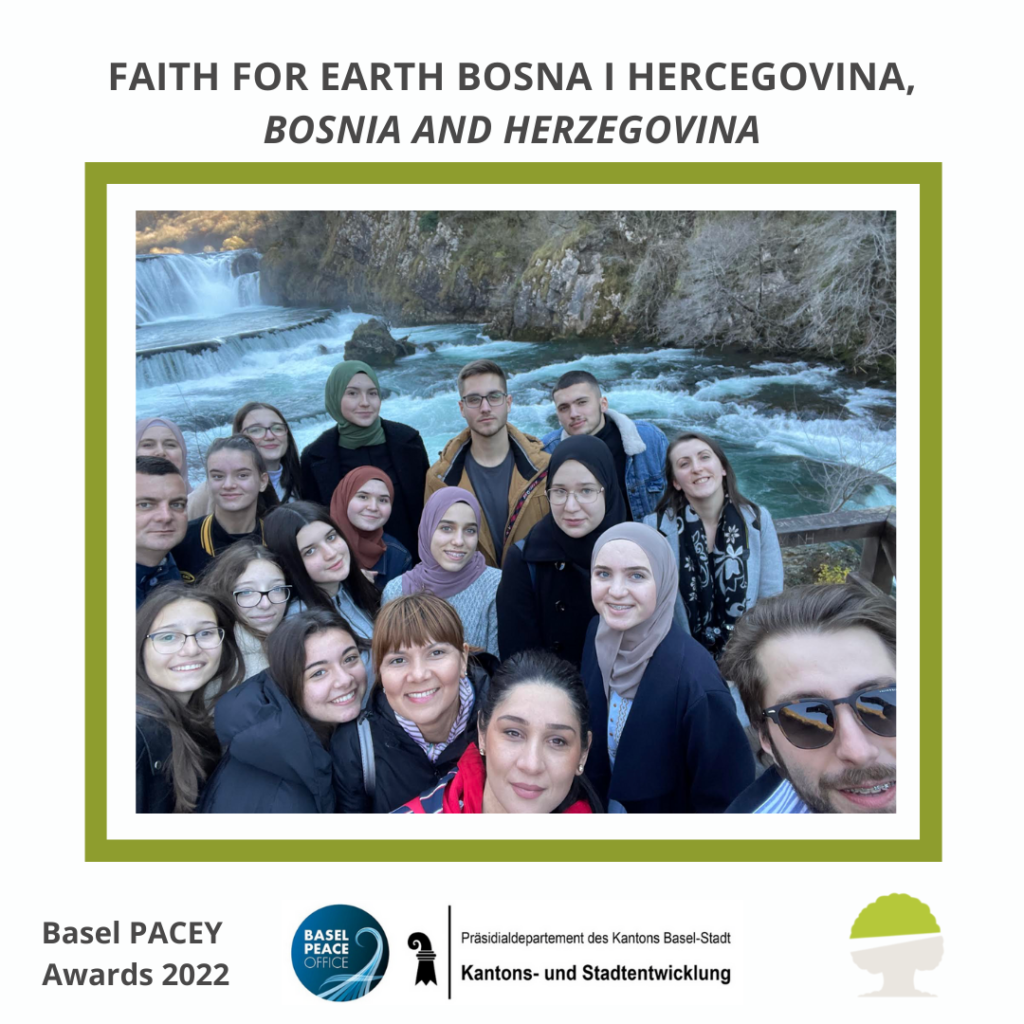 Runner-up Projects
1.5 Degrees of Peace
I am incredibly grateful for the opportunity to share my work as a finalist in the PACEY awards. It was an honour to share the stage alongside some incredible, innovative, youth-led solutions that highlight the need to work for a healthy environment, peace and disarmament. I am inspired by all of them.

I will continue to work towards completing production on my feature documentary "1.5 Degrees of Peace" throughout 2022. Moving forward into the future, I am excited to build upon our educational resources, community outreach engagement, and policy strategies to accompany the release of the film. With the support and guidance of peace and climate focused organizations, I hope my film is catalytic in building a unified movement for peace and climate justice.

– Kasha Sequoia Slavner, 1.5 Degrees of Peace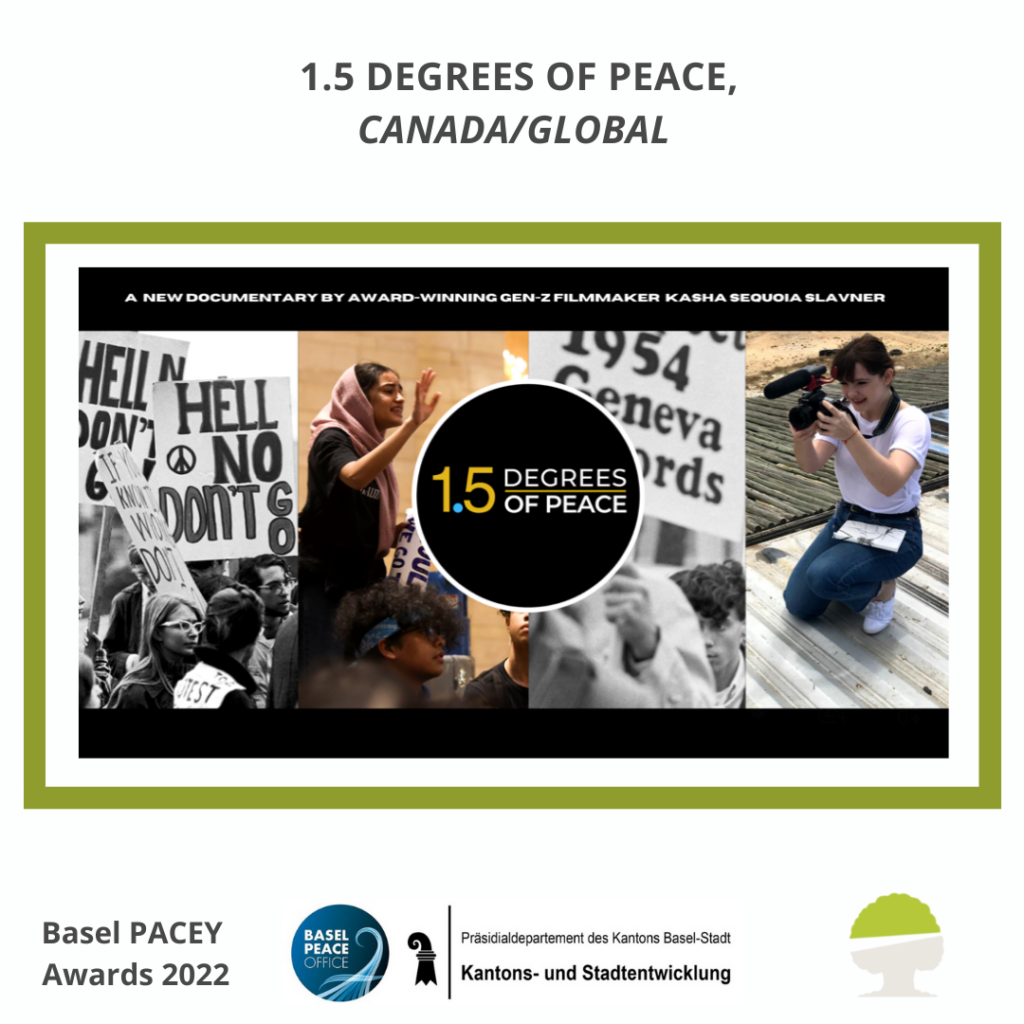 Food@COP
First, when we began preparations for the final event, we were reminded of the immense dedication of our volunteers. Everyone was extremely grateful that Food@COP had been recognized for the collective efforts of our team. Being amongst the finalists for this year's PACEY award was a tremendous boost and an amazing reflective exercise for our campaign. Now, this great opportunity has energized us as we move towards COP27. It was so encouraging and inspiring to stand amongst other changemakers and learn from each other. Young people around the world are doing truly incredible things with extremely limited resources. We will continue to work towards our goal for more plant-based catering at international climate conferences such as COP27, as part of a more sustainable, equitable and nutritious world.

– Juliette Tronchon, Food@COP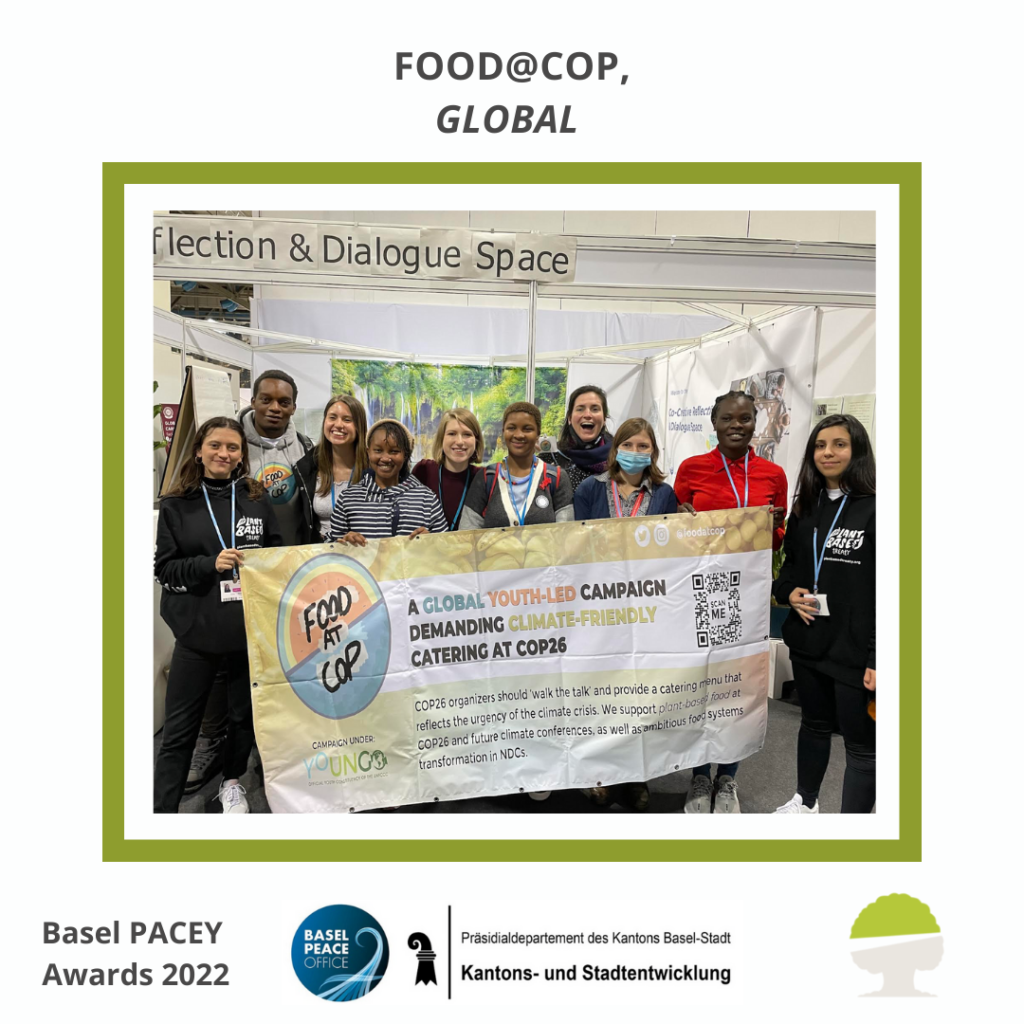 Limitations of Armaments in the Middle East
If we all work together for disarmament, we will achieve peace and justice, and we will be able to have a better life for humanity. This is a summary of our experience in participating in that important opportunity that enhances the voices of young people, as this participation in the PACEY Awards 2022 encouraged me to advocate for climate justice for my Arab community, and that participation strengthened the voice of Arab youth for climate justice.

–       Nourhan Moustafa, Limitations of Armaments in the Middle East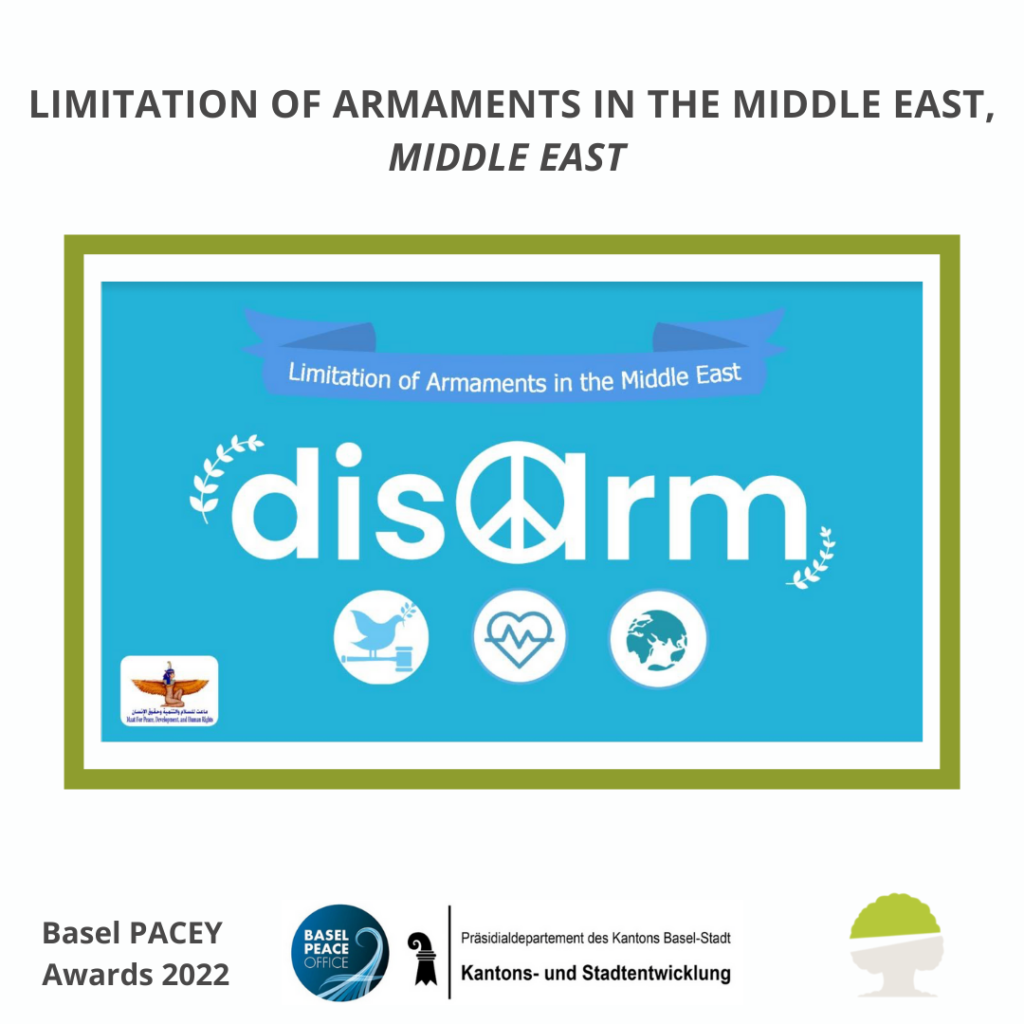 Adopt a Tree not a Weapon
Indeed, I will say I had such a rewarding experience with PACEY. There I speak with an open heart, I appreciated the project leaders with whom we were finalists and the various presentations allowed me to learn more and to understand that despite the distances or horizons that separate us, we all have almost the same fight even if everyone leads it in their own way and with the tools at their disposal.

My participation in this activity has therefore allowed me to discover to what extent the fight and actions that I am carrying out in DR Congo with my project "adopt a tree, not a weapon" can be appreciated and perhaps duplicated at another level.

So, I think the battle I'm leading for a peaceful and resilient world is noble and I came out of PACEY with a double motivation to give much more effort.

Joseph Tsongo, Adopt a Tree not a Weapon